Ashland, Virginia
Nestled just a few minutes off Interstate 95 sits Ashland; a picturesque Virginia town that evokes nostalgia and oozes small-town charm. But don't be fooled by Ashland's quaint appearances; this growing town boasts a lively food scene, a bustling college and a welcoming, active community.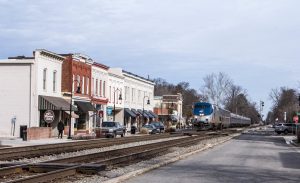 (An Amtrak train passes through Downtown Ashland.)
Located in Hanover County, Ashland is only 16 miles north of Richmond making it a refreshing place to live outside of the city. Originally developed by the Richmond, Fredericksburg & Potomac Railroad as a mineral springs resort, Ashland has remained known for the railroad; the tracks run right through the center of town. Ashlanders are proud of their trains and even have a street festival to celebrate them! Ashland Train Day is an annual event in Downtown Ashland where families come from all over to listen to music, eat local food and watch trains roll through town. In the summer, Ashland celebrates the strawberry harvest yearly with the Ashland Strawberry Faire. This free, community event supports local non-profits and raises scholarship money for Hanover County students. The festival draws upwards of 20,000-30,000 people every year and over 300 different vendors.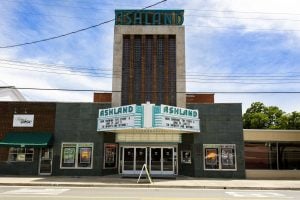 Ashland Theatre
In addition to festivals, Ashland enjoys a variety of activities year-round. Concerts, art exhibitions and events are frequently offered at Randolph-Macon College, a private liberal arts college located right in town. Budding astronomists can take advantage of the college's Keeble Observatory on Wednesday nights when it is open and free to the public. For a night on the town, the recently restored Ashland Theatre screens first-run films and serves as a venue for live music.  
If it's fresh air you're looking for, you won't be disappointed with Ashland's parks, trails and nature activities! The highlight of Ashland's park system is Carter Park, complete with a picnic area, playground, and junior Olympic sized swimming pool. Local parks also offer hiking trails, the most popular located at Poor Farm Park with a moderate loop through the woods.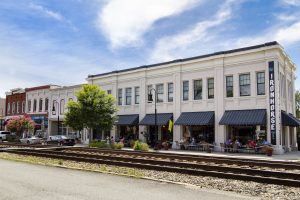 (
Iron Horse Restaurant located right next to Ashland's railroad
)
Despite being a small town, Ashland still has plenty of excellent dining options for any occasion. Iron Horse Restaurant's modern Southern cuisine and al fresco dining make a perfect spot for date night, while Homemades by Suzanne is a local favorite for a weekday bite to eat. Craft beer has also made its way to Ashland, with the help of Center of the Universe Brewing Company. While their taproom is a couple of miles outside of downtown, their sister company Origin Beer Lab is located right in the center of town, making it easy to grab a pint before dinner at one of Ashland's delicious restaurants. 
Ashland, Virginia is a charming town that many have chosen to call home. An easy commute from Richmond, it provides residents with a close-knit community just 20 minutes from the amenities of the city. If you are interested in relocating to Ashland, be sure to contact our Hometown Realty office in Downtown Ashland, where one of our knowledgeable agents can provide more insight into the town where they love working and living! 
 ~Kat Milbradt